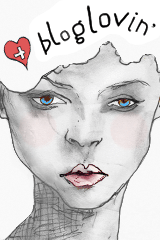 Ebbene si, mie care bimbe, la modernizzazione mi ha preso di mira..cosi dopo il blog, il cellulare superfigo (regalatomi dal fidanzato), twitter e facebook.. Ho scoperto Bloglovin..
Cosi adesso il mio blog è "seguibile" anche da Bloglovin..che devo dire ho scoperto di amare, perchè grazie a questo network, sito..non saprei, chiamatelo come volete.. ho scoperto un bel pò di blog che non conoscevo e che sono stata felice di leggere.. Penso che la mia lista qui a destra..si arricchirà presto :) Il giro della mattina durerà mezza giornata mi sa..!!
Oh yeah, the technology took me too.. So after blog, supercool cellphone (present by my boyfriend), twitter and facebook.. I discovered Bloglovin.. So now you can follow my blog also from this site.. But thanks to this site, I discovered too a lot of blogs really interesting and I was so happy to read those.. I think my list on the right will grow up soon.. but my "morning tour" will be an half day tour..!!